Yutaka Hikosaka
Studio for Trans-Design Works
― Design must be an act of critical salvation.
not limited to serviceability or stylishness, therefore,
that is a very cultural form of survival to the future.
Yutaka Hikosaka
Yutaka Hikosaka is the president of SPACE INCUBATOR Inc. which was founded in 1988 in Tokyo by himself for conceptualizing, planning, and designing built environment especially centered on architecture and urban design.
Yutaka Hikosaka was born in Tokyo as the son of bank clerk. His grandfather on the father's side had been a carpenter.
Studied architecture and urban design at the University of Tokyo, then did research on continuously at the postgraduate school as a student in Kenzo Tange and Sachio Otani's laboratory.
Since then his design activities has been developing on the base of transversing various disciplines not only architecture, interior design, product design, scenography, landscape design, urban design, but science, music, literature, performance, media. In this sense he has been expanding the innovative relationship between art and technology.
All activities noted above could be called as 'Trans-Design', that would be outstanding feature of his design work differentiating from others.
Project for EXPO pavilion, for example, is telling such activities simply, where he basically acts as creative producer.
Traveling all over the world has continued so far, diverse experience beyond doubt forms  his character.
Recently he develops several theme projects related to design. Pursuit for design, technology, culture, and society in the Age of Environmental Revolution is one of them,
Dealing directly and openly with the contemporary social or cultural problems with diversity, then leading to their solutions is his attitude.
---
Sustainable Silkworm "紫蚕島"
In Japan Pavilion in Shanghai EXPO 2010, whose length is approximately 100m, width 50m, height 24m, we tried to experiment on the possibility of various forms of eco-technology and its optimal relationship with design, expecting to be the future sustainable building model in the contemporary city.
Light-weight structure (so-called "diet architecture"), membrane generating electricity by amorphous solar generator inside ETFE pillow system, "Eco-Tube" circulating in the building, and a lot of energy saving devices were mobilized to go a long way toward reducing the environmental load.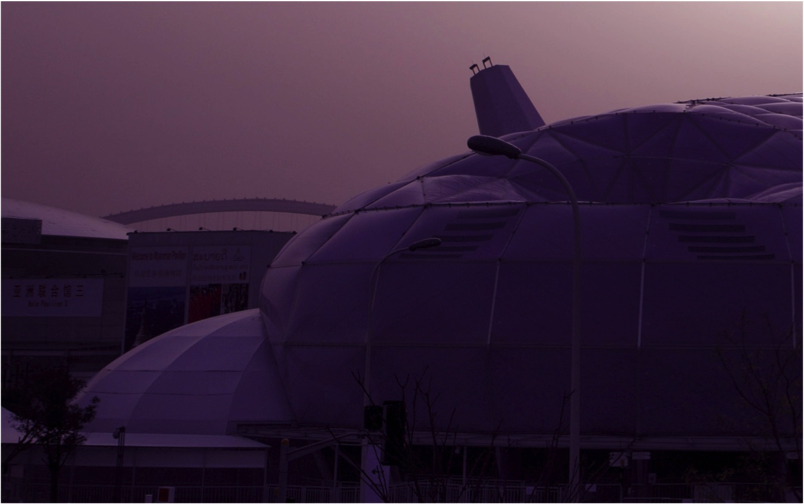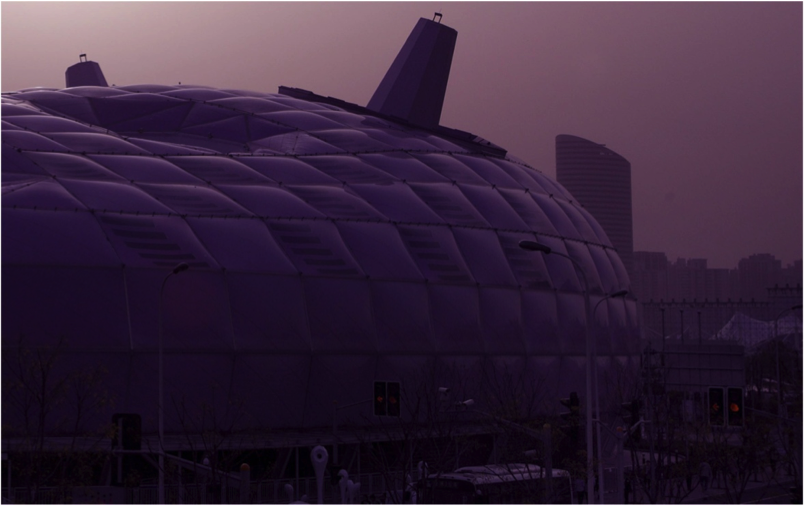 Layer of skin with kaleidoscopic look based on crimson-lilac color
Biomorphic shape might be imagined as something like a silkworm or sea hare
Ultimate Immersed Experience World's first 360 degree sphere image
12.8m diameter, that is one a million of that of the earth, sphere interior becomes all screen, on which twelve projectors make a seamless image due to edge-blending technology. As the part of bridge floor in made of transparent glass, audience without head-mount display could experience the frameless vision that has never seen. Moreover, 11.5 channels loudspeaker system creates the ideal acoustic environment as if people were involved inside the huge cathedral.
We have completed this world's first image by the progressive task force organizing planner, architect, moviemaker, optical engineer, sound engineer, exhibition designer, equipment specialist, and computer system engineer.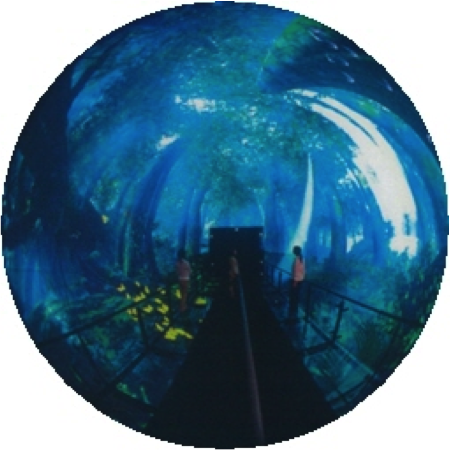 Earth Vision performed in EXPO 2005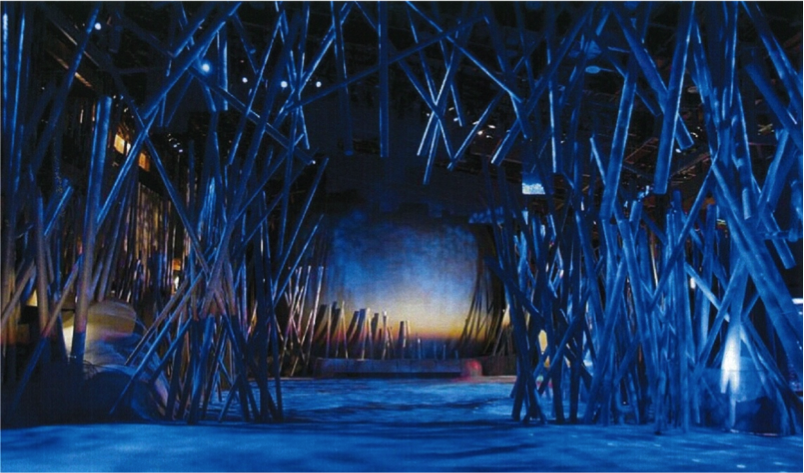 Shell of "Earth Vision" also formed as sphere in artificial forest
Activation of Unknown Memory
"Retort-Architechnology" is model performance assembling modern morphological language, experiment for developing the unknown landscape, which would cover the design in every scale.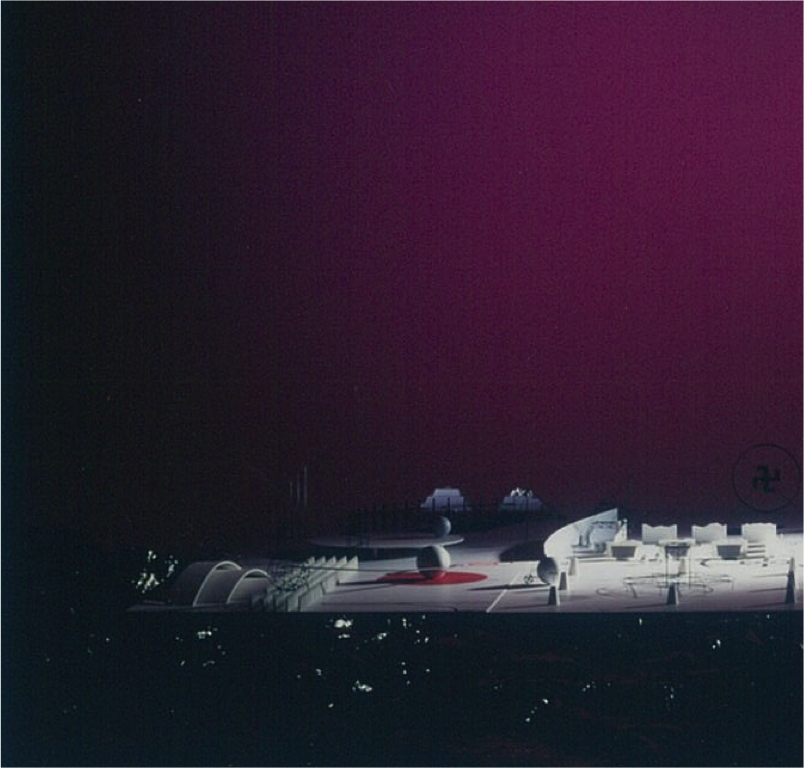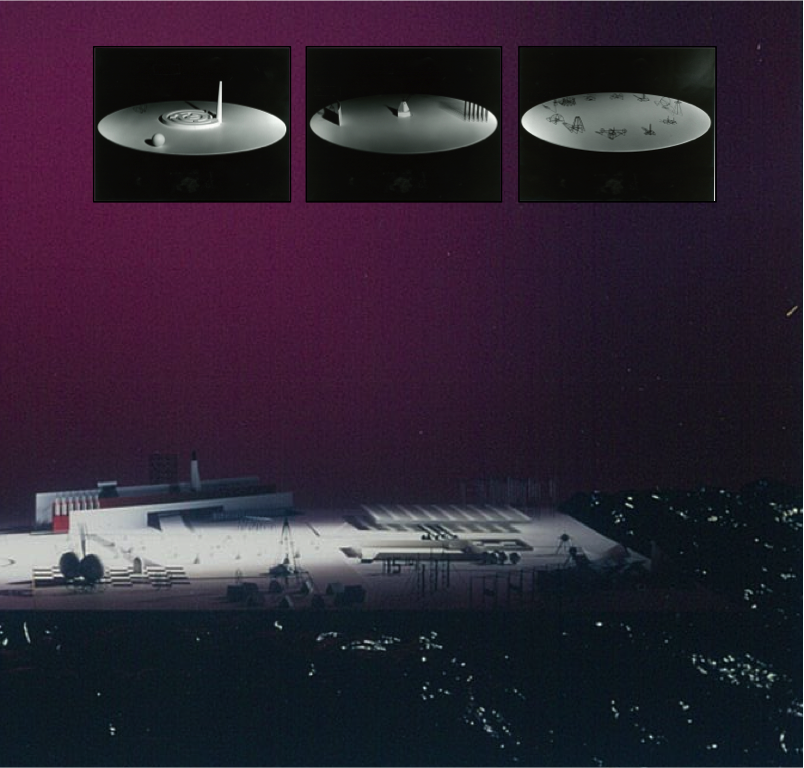 Monumentality of place
Not to be monumentally as itself, but to make the place monumental.
Architecture is just creation media to give rise to a place.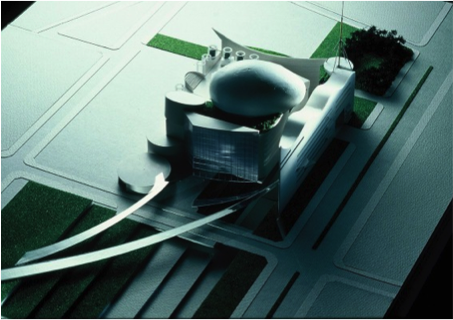 Complex Cultural Center crowned with Egg-performing-hall project (Aichi)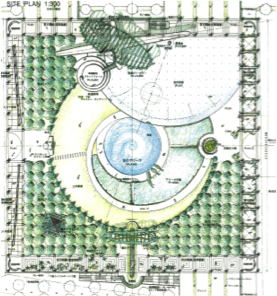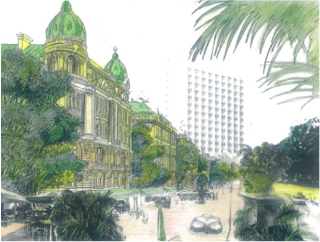 Urban central square project (Saitama)
Green City
Green city is eco-city or smart city at once rooted the sense of place, the history of place, and local eco-friendly culture. Green urbanism is to structuralize them, where infrastructure and facilities could coexist harmoniously and dynamically.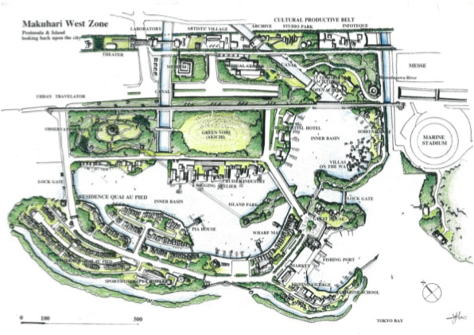 Reorganization project of new city center (Makuhari)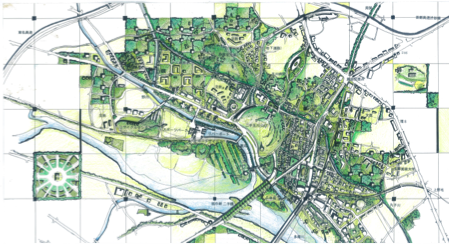 Grand design 2026 of Futakotamagawa (Tokyo)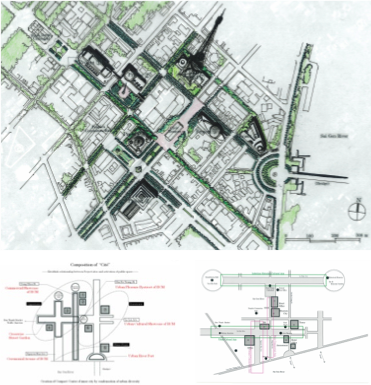 Saigon CBD project ―realignment of cité
Scale coaching by Yutaka Hikosaka
Scale is one of the critical notion for spatial design work including architecture and urban design. Sense of scale must be indispensable ability for those creation. From familiar scale to cosmic one via architecture or city, getting measurement of every substance whether solid or void, comparing between them under a certain theme, we could learn and grasp what is human scale, what is super scale, what is wrong and out of scale, further, how to handle the scale.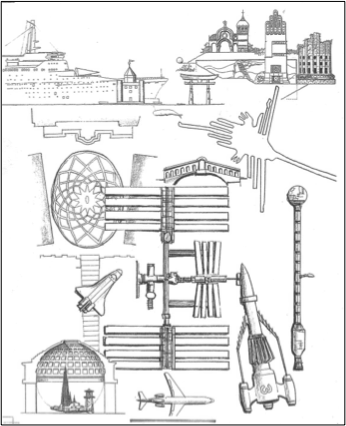 Architectural Scale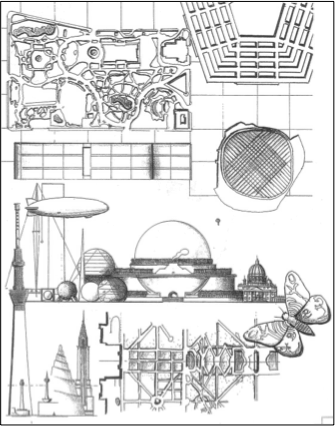 Semi-Urban Scale
Basic Capable Service Domain
Trans-Design Domain
―Creative Produce, Total Design
Public design (Street, Plaza, Greenery network)
EXPO (Pavilion, Event stage, Whole festive site)
Theme Park, Theme Town
Commercial & Hospitality Space (Resort environment, Restaurant,Hotel, Guest Facility, VIP club)
Cultural Facility (Museum (Children, Science, Contemporary, Natural history), Theater, Laboratory, Experimental studios, Place for edutainment)
Port Environment (Seaport, Station, Airport, Transport-junction)
Urban structure
Urban system
Smart capital / Smart city
Design Domain
―Conceptualizing, Planning, Design, Supervision, and Consulting
Temporary structure
Sight furniture / Eye-catcher landmark
Domestic architecture
Civil architecture / Complex-function architecture
Interior / Exterior space & ambience
Garden & Landscape
Large-scale campus
Urban district
Education Program (the present phase)
―Lecture, Workshop & Inspection
 Design in the age of Environmental Revolution
Visualization (generalties)
Visualization of the Future
City and Velocity
Commercial City (Event and Resort)
EXPO pavilion
Management of Space
Legacies of EXPO for imagination
Scaling
Japanese way of Globalization
Presentation
Publication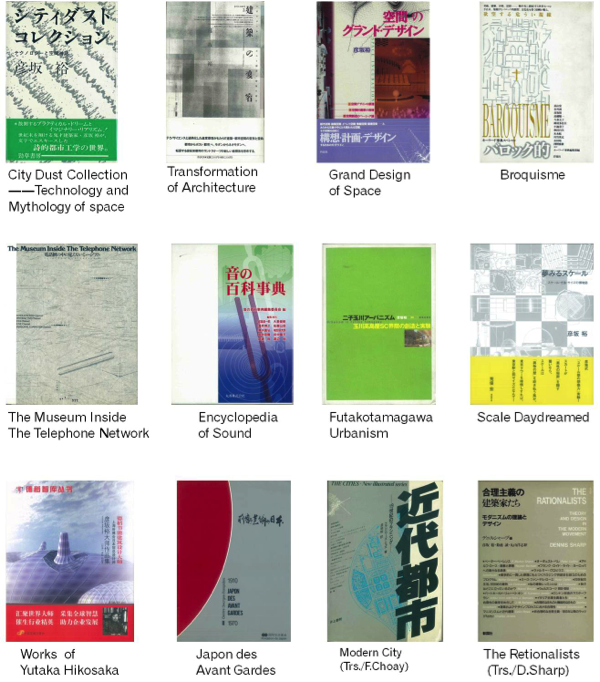 Why Hikosaka ?
Because of the competitiveness of what is created as Trans-Design
■Harmony and integrity of the project
Consistent concept from grand vision to embodied detail               
element regardless of its scale
Optimal and effective relationship between contents (software)
and real space (hardware)
■Realization of exciting fusion among different fields
Technology/Engineering and Design
Ecology and Economy
The retrospective and The progressive
East and West
Material and Nonmaterial
■Task force team for the project
Taking up the project by organizing and networking top-rank
specialists or firms under the direction of Hikosaka
Consequently, the project basically possesses self-branding mechanism and only one value, promoting the improvement of not only fame but actual or virtual assets value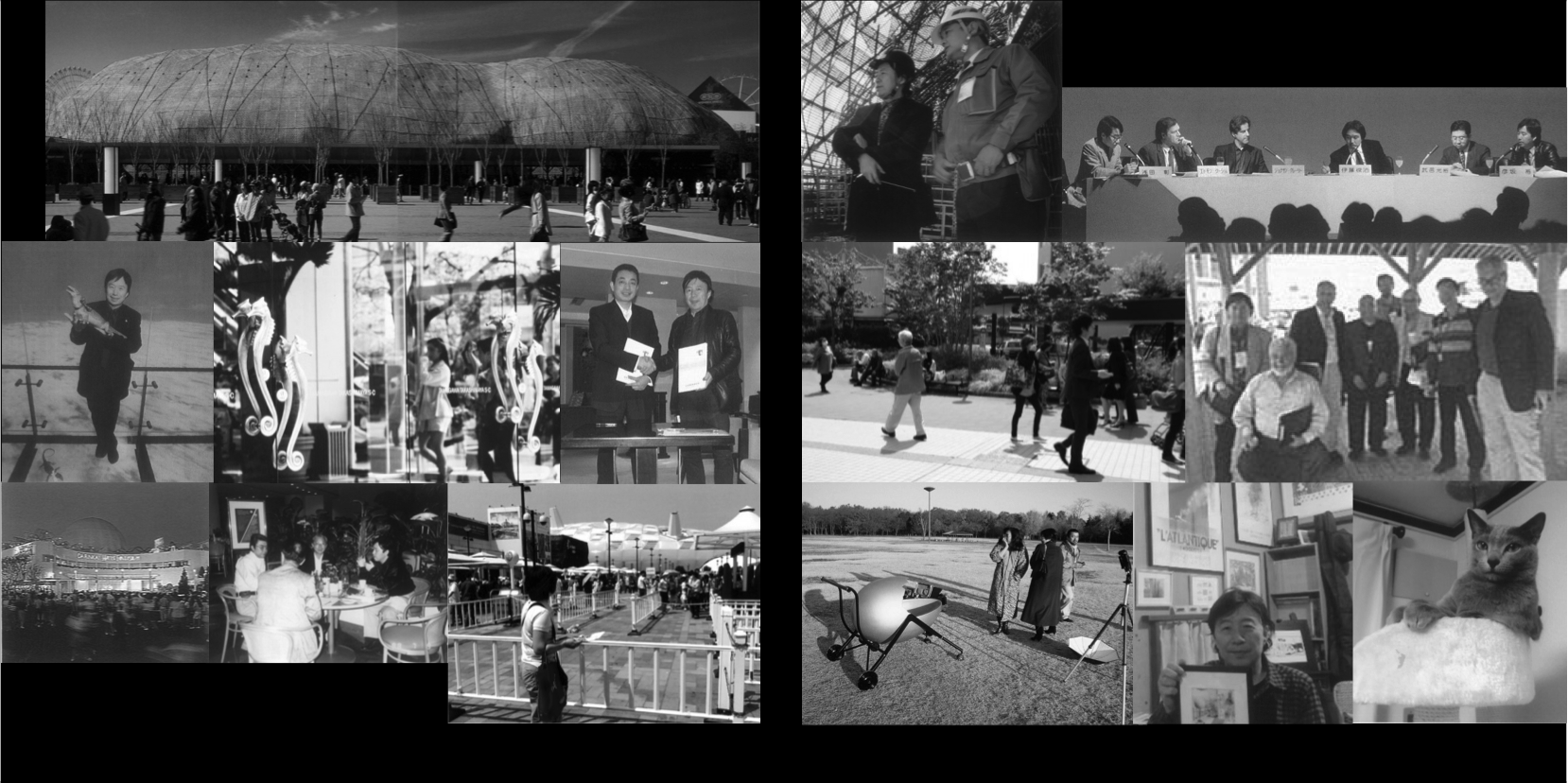 Back To Top
CONTACT : liyang@detaoma.com|021-3701-0322|F:021-3701-0322
---
(c)2014 Yutaka Hikosaka All Rights Reserved.